The best concept for water disinfection
The O'Clear® UV treatment guarantees high-performance disinfection with every pass.
Remanence in the pool is ensured thanks to specific electrodes designed to work with the O'Clear® UV treatment and only 0.5 g/litre of salt.
The disinfection system is controlled by filtration.
The result: perfectly pure, clean water.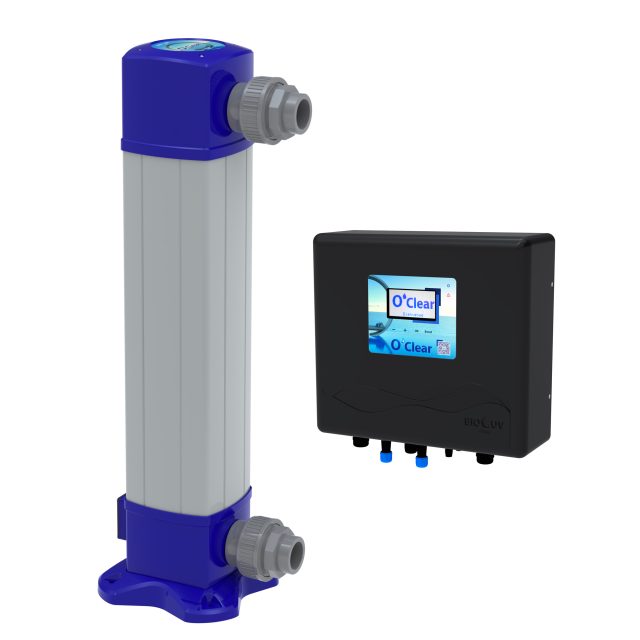 Benefits
Perfectly disinfected (UV) and disinfecting water (salt at only 0.5 g/litre)

Just one bag of salt is enough (instead of 7 to 10 with conventional electrolysis for a 50 m3 swimming pool)

Fully automatic Plug & Play system

Easy to install and use

Requires very little cleaning and maintenance

Perfectly safe for swimmers

Comfort and softness of clean, crystal-clear water

No risk of allergy

No chlorine smell, no taste of salt

Reduced risk of corrosion

Compatible with all pool types (excluding the stainless steel pool), including pools with covers

Guaranteed treatment reliability and efficiency
Technical characteristics
PVC reactor
Very long lamp life (13,000 hours depending on number of switch-ons)
Adjustment of the operating time of the electrolyser, triggered at the end of the filtration period
Reverse polarity on electrodes, adjustable according to water quality
Dedicated electronic ballast for maximum UV lamp utput and integrated control
UV lamp function check by indicator light including hour meter, lamp failure alarm, lamp replacement alert
Input/output connection by supplied union fittings
Flow sensor included
Exists with or without O'Clear pH control ®
Temperature sensor to shut off electrolysis if <15°C
Integrated pH control
UV and electrolysis operation can be adjusted with the possibility of desynchronising the 2 functions
Downloads
O'Clear Elite product sheet