Ultraviolet and solar energy: with BIO-SUN, BIO-UV Group makes water drinkable in Haiti
Despite the proclamation of the right to water, hygiene and sanitation by the United Nations in 2010, access to safe drinking water still remains unequal around the world. A major problem that is becoming more severe every day due to exponential population growth and global warming, which is making resources and access to water scarcer, especially in desert areas and the most remote regions of the world.
As a source of life and economic development, water is unfortunately also a source of disease and death. The unhealthy water is indeed an unknown (or poorly known ) and silent scourge.
Faced with this alarming fact, BIO-UV Group decided to leverage its experience in ultraviolet water treatment to design BIO-SUN, a autonomousborne capable of filtering, disinfecting and purifying water thanks to ultraviolet radiation and solar energy! Our goal? To make drinking water accessible to all!
An ingenious, innovative system that is already performing all its functions in Haiti. A look back at a collaborative project at the service of humanity!
Access to drinking water in the world
To alleviate this problem, BIO-UV Group has designed BIO-SUN, a autonomous water treatment system, adapted to situations of poverty, which makes it possible to eradicate pathogenic microorganisms present in water and responsible for waterborne diseases that are particularly rampant in disadvantaged peri-urban areas.
"This stand-alone hydrant has been developed to provide for the need for drinking water in remote locations, underprivileged countries and townships in large cities"

Benoît Gillmann, CEO and founder of BIO-UV Group
BIO-SUN, AN AUTONOMOUS DRINKING WATER TERMINAL THAT COMBINES FILTRATION AND DISINFECTION USING ULTRAVIOLET LIGHT AND THE SUN
To ensure its double mission, filtration and water disinfection, the BIO-SUN terminal is composed of a zeolite filter (a volcanic stone that retains suspended particles), a solar panel and a BIO-UV reactor equipped with an ultraviolet lamp. Developed in partnership with the Phaesun company for the photovoltaic part of the system, its operation is very simple! First of all, the water arrives in a tank either manually, thanks to a cap and a 20 liters container, or by means of a connection to the water network (or integrated to a pump connected to a river or a drilling).
"We must not forget that in developing countries, especially in Africa, it is women and children who carry the water. We had to simplify the process of feeding to make it accessible to all," recalls Benoit Gillmann. "The bollard itself was designed not to be too cumbersome: it is 1.20 meters high and weighs 100 kilos," he says.
Once in the tank, the water is filtered before being disinfected with ultraviolet radiation. It is thus purified and rid of the viruses and bacteria that are the toughest, such as cholera. The water becomes drinkable!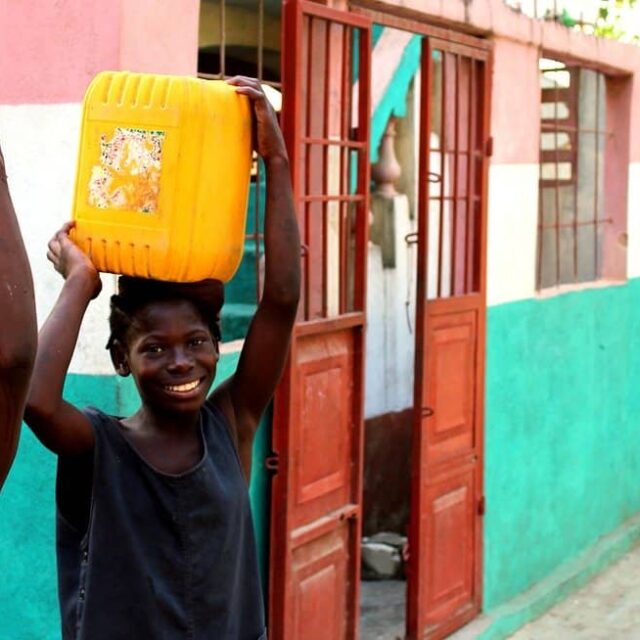 The power of the reactor is calculated to treat the equivalent of 500 liters / hour with 400 J/m² of sunlight. BIO-SUN can thus deliver 2m3 of drinking water per day and thus meet the daily vital needs of 80 to 100 individuals as defined by the World Health Organization (WHO), i.e. 25 liters of water each. Given its photovoltaic power supply, and with its integrated battery, the BIO-SUN system operates 4 hours a day and has an autonomy of about 3 days when the sun is not in full force.
Contribute to the development of the local economy
In African and Asian countries, the installation and maintenance of the systems are often done by local companies.
"Involving the local population in the maintenance of the bollard will also create some economic activity around the installation," hopes Delphine Benat-Rassat, one of the managers of Lysa, a company specializing in sustainable water management and maintenance, which cooperated with BIO-UV Group in the installation of the BIO-SUN bollards in Saint-Marc, Haiti, and trained the people on site in the maintenance and upkeep of the system. In fact, in order to raise awareness among the local population, one person is designated to take care of the kiosk and distribute water.
"Accountability is the ideal formula for equipment to last a long time," emphasizes Benoît Gillmann
Four solar terminals to provide drinking water in Haiti
In 2011, BIO-UV Group sent a BIO-SUN kiosk to the commune of Saint Marc in Haiti, a country hit hard by a cholera epidemic following a devastating and deadly earthquake in 2010. Subsequently, other kiosks will be installed in the country: in 2013 at the Sister Flora Orphanage (on Cow Island) and at the village of Bois Bouton, in 2016 at the School of Fond-des-Blancs in Torbeck.
Once on site, the BIO-SUN terminal is installed by the teams present on site, with the help of local people. The photovoltaic panels are then installed. For the orphanage of Sister Flora and the school of Fond-des Blancs, the solar panels were installed on the roof of the building, out of sight. It was also necessary to install a tank, a temporary solution until the construction of the wells is completed, to collect rainwater in the village of Bois-Bouton and at the school in Fond-des-Blancs.
"Our school is over 10 years old and for all that time, and for 109 children, 18 teachers and kindergarteners, five cooks, we were using porcelain filter cartridges, with activated carbon and silver ions inside, mounted on buckets. This provides drinking water but not in sufficient quantity because the flow is very slow! We use about 80 liters of water for drinking only, washing hands and dishes being done with untreated water. Today, with BIO-SUN, we can wash the dishes and the children's hands with clean water! We use 320 liters daily. Life is completely different when you don't have to wait to get home, around 3 or 4 am to quench your thirst in the blazing heat ! "

Myriam Sillien-Labbé, founder of "The Village School" in Torbeck
The access to safe water around the world is progressing, but there are still many efforts to achieve any of the 17 Sustainable Development Goals (SDGs) set for 2030. There are less than 10 years left to achieve them all. Let's stay mobilized!